How to Quit a Job Professionally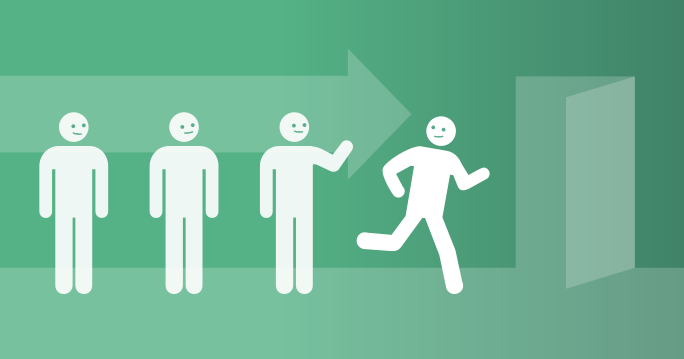 Quitting a job can be an incredibly liberating experience or a bittersweet one. It depends on how much you enjoyed your job. Regardless of how you truly feel, it's important to leave on a good note. After all, you never know when you may run into your colleagues again.
How to resign from your job gracefully
1. Confirm details with your next employer if you have one
You might not always have the next step lined up in your career, but if you do, make sure you have it in the bag before you start making moves to quitting your current job.
2. Clear any personal items from your professional workspace
In some circumstances, you may be asked to leave immediately after you inform the company of your plans to quit. To save yourself from potential complications in the future, be prepared to turn over all your company belongings right away. If you have any personal items left behind in your office or computer, it may not be easy for you to retrieve them later.
3. Speak to your boss about your plan to quit
When you're ready to give your notice, set up a meeting with your direct manager. During the meeting, be direct and professional. Let them know that you're planning to give your notice of resignation, but you wanted to let them know first. They may ask you why or try to change your mind. You aren't obligated to give a reason or justify your decisions if you don't want to. However, if you do, try not to sound too negative or complain-y.
4. Give written notice
Write a brief email stating that you are providing written notice of your resignation and the day you plan on leaving. You may also choose to express your gratitude for the time you spent at the company with one or two sentences. Additionally, provide non-work contact information in case they need to reach you. In general, you'll want to keep this email short, professional, and generally positive. Don't forget to proofread your email! It also helps to CC yourself and the HR team so that everyone has a record of this.
5. Be proactive with a transition plan
As tempting as it may be to forget about all your projects, the last days of work are paramount to leaving on good terms. If your manager has not reached out to you already, be proactive and reach out to them to ask how you should carry out the turnover. Your team will certainly appreciate this. This will also give you a good opportunity to let the rest of your team know about your planned departure.
6. Tell colleagues gracefully
Breaking the news to your colleagues requires tact. Your colleagues could react to this update in many different ways. Some will ask why, others will ask where you're headed, and a few might even complain about the company and express interest in leaving as well! No matter the reaction, try to keep the interactions positive and avoid speaking poorly about the company. Again, you aren't required to share details if you don't feel comfortable doing so. Try to focus on the good times you've had at the company and the adventures you are looking forward to.
7. Avoid excessively complaining during exit interviews
Most companies will conduct an exit interview before your last day. They are looking for feedback and how they can improve. Again, you are not obligated to share anything. It may be tempting to rant about everything, but that's not the way to go. If you choose to share your feedback, stick to one or two key areas for improvement.
8. Send goodbye email with an invitation to keep in touch
On your last day of work, send an email to your colleagues announcing your departure. Keep it short and sweet. Express gratitude for your time together with everyone and invite your team to stay in touch. Don't forget to provide a method of contact! This could be anything from an email, phone number, or social media. This email is best sent at the beginning or middle of the day so people have time to respond and say goodbye. It's also helpful to CC your personal email so you can also have a record of their emails in case you ever need to reach out to them.