Fast Breakfast Ideas for People with No Time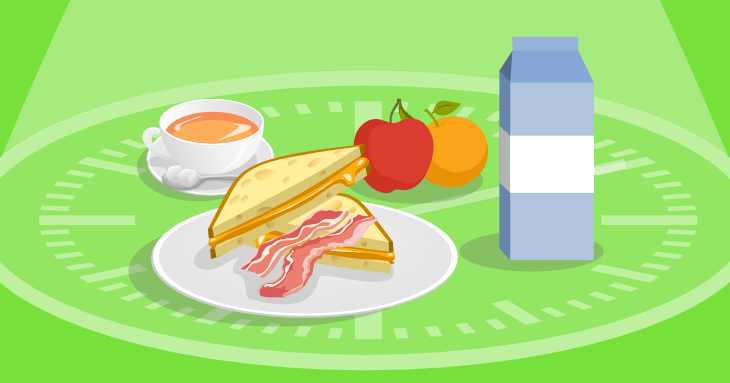 Whether it's morning lectures or the 9-to-5 grind, many people find themselves neglecting the first meal of the day. If you're not an early bird, you probably set your morning alarm as late as possible. This doesn't leave much time for breakfast and you go hungry for the first half of the day. Needless to say, this isn't a healthy morning routine.
Ideally, there should be enough time to sit down and have a nutritious breakfast every day, but sometimes it's not doable. The next best thing is to eat something instead of nothing.
The breakfast-by-time menu
A simple way of prepping breakfast is to have fast-to-make and fast-to-eat food ready. The more time you have, the more you can eat.
Breakfast items based on time
Food Group
Item
Time Needed (minutes)
Protein
Sliced sandwich meat
2
Fried egg
5
Bacon
5
Dairy
Cheese
0 (bring to-go)
Yogurt
0 (bring to-go)
Milk
2
Produce
Banana
0 (bring to-go)
Tangerine
0 (bring to-go)
Trail mix granola bar
0 (bring to-go)
Juice
0 (bring to-go)
Berries
4
Grain
Sliced bread or bagel
3
Cereal (paired with milk)
4
Oatmeal
5
This is a very simple plan on paper, but it's important to have the food there when you need it. Keep this menu in mind when you're grocery shopping.
Example
Depending on how much time you have to eat in the morning, pick and choose what fits within your time budget. For instance, if you have 10 minutes to eat, you could pick the following:
sliced meat (2 minutes) + bagel (3 minutes) + fried egg (5 minutes) = (10 minutes)
If you're still feeling hungry, toss a yogurt and tangerine into your bag for later.