Impressive Questions to Ask in a Job Interview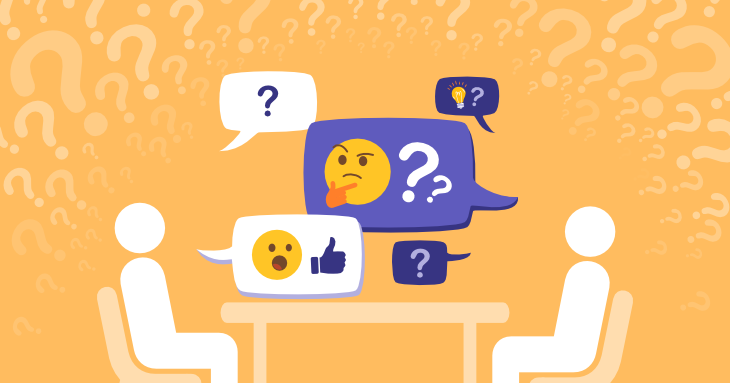 Interviews are a two-way street. The final part of an interview perfectly embodies this philosophy. Almost all recruiters close off an interview by asking the interviewee if they have any questions. It is the final opportunity for you to do the following:
leave a lasting impression
find out if you're a good fit for the team
catch potential red flags
How to ask smart questions to ask at the end of a job interview
Most job seekers are relieved to hear a recruiter ask, "do you have any questions for us?"
While this may signal the end of your interview, you shouldn't let your guard down yet. The questions you ask the recruiter can impact the success of your interview.
The worst response you can say is no. It shows a lack of interest, and many recruiters will notice. Having smart questions prepared is crucial. Remember, this is the last opportunity to impress and figure out whether or not you are a good fit for the role. Take advantage of this last chance!
Avoid asking standard questions
Many job candidates will ask standard questions about the job, such as:
Can you describe a typical day of work?
Where do you see the company in five years?
What are the company values?
Are there opportunities to progress?
What is your favourite thing about working at the company?
What is the office culture like?
What are the next steps of the hiring process?
Can you describe the team I will be working with?
Will I be required to go through any training before starting work?
These questions are informative but also a little boring. Your interviewer has likely been asked these questions by the other candidates already.
If you want to find out more about certain aspects of the company, take this chance to ask away. However, don't ask these questions for the sake of asking.
Impress your interviewers with thoughtful questions
Thoughtful questions are more interesting and unique. When done correctly, they can leave a good impression on your interviewer.
Instead of asking generic questions that can apply to any job and company, show that you are serious by asking specific questions that demonstrate your interest.
It may seem like a lot of work, but it's easier than it sounds. The trick is to follow this simple format:
Elements of an impressive question
Acknowledge a fact about the company or job
Ask a question about the fact
It's as simple as that. By prefacing a question with extra facts, the question becomes an opportunity to show off what you know.
Impress the interviewer by making callbacks to the information mentioned earlier in the interview and research your facts ahead of time. It shows that you have been attentive during the interview and have done your homework.
Examples of smart questions to ask
Using the format described above, you can create customized questions to ask your interviewer without too much effort.
Examples of calling back to previously mentioned information
You said that you have been working at the company for over ten years. In your opinion, where do you see the company in another ten years?
You mentioned that you started working here as an engineering graduate. How has the company support your career growth?
Earlier, you said that I would be working with your team. Could you describe what the team is like and the office culture?
You mentioned earlier that you had specialized in fluid dynamics in university. How has your specialization contributed to your work?
As you said earlier, the next round is the technical assessment. May I ask when you are planning to notify the successful candidates from this round?
Examples of demonstrating your knowledge of the job and company
I know that the company takes both quality and safety very seriously. What strategies does your team use to meet both standards without using too many resources?
Given that the company has been operating for over 75 years, what would you say are the benefits of working at an older, more established company versus a younger company?
The job posting had mentioned flexible hours. Could you please describe what a typical day is like for a member of your team?
The company has been recognized as one of the best places to work. Could you please tell me more about the office culture?
I read on the news that the company is planning to expand into the renewable energy sector. Will your team be supporting this expansion?
Upon closer inspection, you'll notice that the questions asked are quite generic. What makes these questions stand out compared to their standard counterparts is the extra details. Tailor your questions with some prior research and attentive listening.